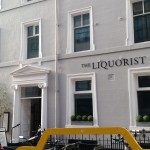 The Living Room was pretty forgettable. The space has now been rebranded by Stonegate Pubs into The Liquorist.  The layout remains largely the same, but with a bit more light and some big-ass chairs! There are still a number of rooms and it will appeal to big crowds wandering up Greek Street on a weekend night out.
As is becoming more and more the norm, The Liquorist stocks a handful of nice, but common, craft bottles, such as Flying Dog, Meantime, BrewDog, Harviestoun and Bellerose. They've got Abbot on cask but nothing else to speak of. Unfortunately the prices are a lot higher than you'll see elsewhere. £5.20 for a Punk IPA but even worse is £4.25 for a Desperados! What?
There are some deals on food if you come at the right time, and a wide range of cocktails to choose from. But for us there's nothing to bring us back here. So while an improvement to its predecessor, it's not really any less forgettable.